DMX Lighting Control Panel with Remote Control Breakers
Looking for an efficient lighting control load center? The LCLC series of DMX controlled Load Centers uses motorized circuit breakers to offer a labor-saving one-panel alternative to DMX relay panels. Instead of a bulky setup with separate panels for different audio, visual, and lighting systems, a high quality LynTec lighting power control panel can solve your space issues. The economical Load Center panels require the least wall space for tight locations and are perfect if you are trying to save on valuable room. These compact and sleek panels are available in 26 and 41 circuit sizes od 3 phase, 4 wire 208Y/120Vac. Many small theaters, intimate restaurants, conference rooms, and other locations have found these incredibly useful.
A Lighting Control Load Center is a traditional residential panel and consequently best suited for smaller circuit breaker counts or for applications with limited wall space. For a bigger arena, auditorium, or other venue, one of LynTec's many other state of the art products would be more appropriate. The LCLC is more economical than the bigger panelboards, and is a great value for all of the features offered!
Here are just a few of the high end features of this lighting power control:
DMX 512 control standard in all panels, a simple jumper system sets your addressing
Control circuits individually or in zoned group
Simplest control set-up and operation in the industry
No on-site commissioning or factory start-up required
Emergency auto-on feature for egress lighting standard (ETL listed UL 924)
Saves Space
Saves redundant installation and hardware costs!
Energy efficient – NO holding current or heat sinks required to maintain state – Runs cool, lasts long!
Many of these features make sure that your Lighting Control Load Center is convenient and easy to use, from the limited space it take up to the ability to have zone control. Save time, money, and space with the LCLC.
Short Cabinet:
LCLC 326 (for main breakers <100A)
LCLC 329 (Main Lugs Only [MLO])
Tall Cabinet:
LCLC 338 (for main breakers <100A)
LCLC 341 (150A, 200A, 225A and MLO available)
Specifiying in 5 easy steps
Choose the control method MS=Sequencing, LC=DMX512, and SC=RS-232
Choose the cabinet style: LC for load center.
Choose three phase (3) or single phase (1)
Choose the number of circuits: 26 or 41 Panelboards are only available in 41 circuits.
Choose the maximum number of controlled circuits: 12, 24, 36, or 48 for MS and 10,20, 30, 40,or 50 for LC and SC
EX: LCLC 341-30 = a 3 phase DMX controlled load center with 41 circuits (30 max controlled)
Comprehensive Specifier's Guide  
LC-10 Series
Each motorized breaker is DMX512 addressable via a simple set of jumpers on the LynTec control board. Once the DMX address starting point is set by inserting the jumper, each motorized breaker has the next sequential address assigned to it (one address per breaker), the DMX operator can then program the breaker addresses for individual control. The LynTec control boards only use as many addresses as there are motorized breakers connected to it, this saves valuable DMX addresses for other equipment. DMX commands for each breaker are on, off or no change.
MB Series Motorized Breakers
Available in 15, 20 and 30 Amps, one, two and three poles.
For complete mototized breaker details click here.
Click thumbnail to view.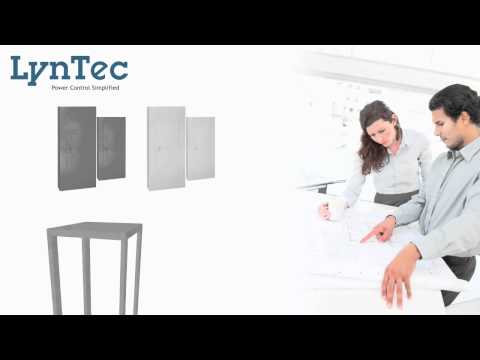 Power Control Simplified
LynTec Panel Basics: Why a controllable breaker panel?
Square D motorized branch circuit breakers plus LynTec customized control electronics provides the most elegant electrical power control platform.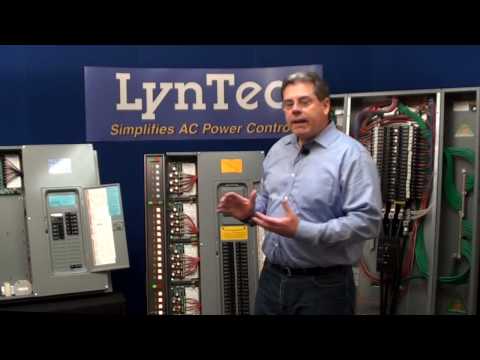 Building a Motorized Breaker Panel System Part Number
In this video we describe how to create a system part number for a LynTec motorized circuit breaker panel. We cover panel, control board and motorized breaker options.