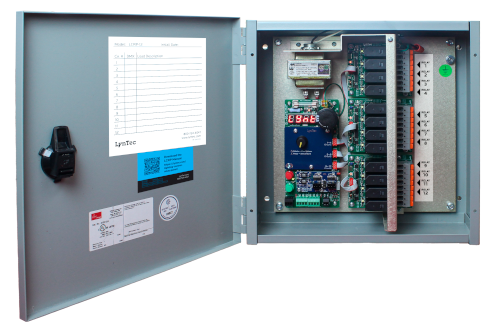 Retrofit DMX Lighting Control Relay Panel
Tested, complete package — low labor — mount next to circuit breaker panel to control AC power "hot" lines
Reliable Panasonic latching in modules of 4 relays for easy expansion
Low power consumption — no continuous relay coil current — runs cool for long life
Diagnostic LEDs and internal ON -OFF test switches speed installation for testing and troubleshooting
Cabinet and all components connected to high voltage are ULlisted — Electrician friendly
4, 8 or 12 circuits — 120, 240 or 277volt models available
Daisy-chains for unlimited circuit count control
DMX 512 control standard in all panels, a simple jumper system sets your addressing
Control circuits individually or in zoned group
Simplest control set-up and operation in the industry
No on-site commissioning or factory start-up required
Emergency auto-on feature for egress lighting standard (ETL listed UL 924)
Saves Space
Saves redundant installation and hardware costs!
Energy efficient – NO holding current or heat sinks required to maintain state – Runs cool, lasts long!
LC-12 Series
---
Each motorized breaker is DMX512 addressable via a simple set of jumpers on the LynTec control board. Once the DMX address starting point is set by inserting the jumper, each motorized breaker has the next sequential address assigned to it (one address per breaker), the DMX operator can then program the breaker addresses for individual control. The LynTec control boards only use as many addresses as there are motorized breakers connected to it, this saves valuable DMX addresses for other equipment. DMX commands for each breaker are on, off or no change.
Panasonic Relays
30A Tungsten, 125Vac 1/2HP motor at 110-125Vac
30A Ballast, 277Vac 1 1/2 HP motor at 277Vac
50A Resistive, 277VAC
30A Ballast, 347VAC 1 1/2 HP motor at 220-277VAC
50A Resistive, 347Vac
FOR COPPER WIRE ONLY
This product is NEC 110 Compliant when used in accordance withthe following: Suitable For Use On A Circuit Capable Of Delivering Not More Than 10 kA Sym. Amps., 277 Volts Maximum.UL Listed 508G Industrial Control Equipment — CSA certified